Minced Beef And Vegetable Sandwich
The best-minced beef and vegetable sandwich recipe.
This savory, delicious and healthy minced beef recipe is easy enough to prepare for weeknight dinners that will be a hit at your dinner table.
Yield: 4
Prep Time: 15 mins
Cook Time: 20 mins
Total Time: 35 mins
Ingredients:
Whole Grain Sandwich Bread (4 or 6)
350 g           minced meat
1                  Scallion
1                  Minced Clove of Garlic
½                 Shredded  Zucchini
1                  Medium Shredded Carrot (Use a Grater)
½                 Shredded Potato
¼ cup          Sliced White Mushrooms
30 g             Sliced Green Olives
1 tbsp         Chopped Parsley
½ tsp           Salt
1 pinch       Black Pepper
¼ tsp           Paprika powder (optional)
1 tsp            Cumin Powder
¼ tsp           Chili Powder
¼ tsp           Turmeric (curcumin)Powder (optional)
¼  cup          Grated cheese (any cheese you have)
Directions:
1.Add olive oil, chopped scallion, and garlic in a large skillet or wok over medium-high heat. Stir for 1 minute.
2.Add the veggies ( zucchini, carrot, potato, mushrooms, olives), then add (cumin powder, black pepper, chili powder, paprika powder, turmeric powder, salt). Mix everything together. Cover and let cook for 5 minutes.
3.Add the minced beef to the veggies mixture, then add the parsley. Stir well, cover and let cook for 15 minutes.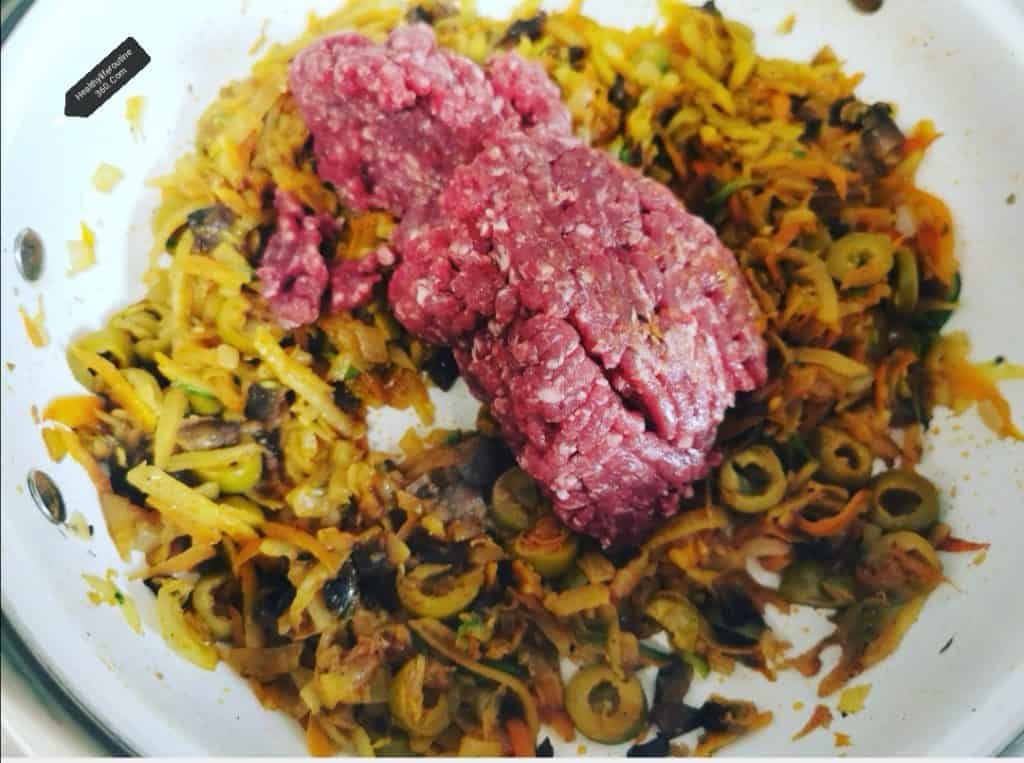 4.Let cool then add the cheese, mix well.
5.Open the bread sandwich. Place 1 leaf of lettuce, if the lettuce leaves are much larger than the sandwich, cut them into halves or thirds first. Then add the chicken and vegetable mixture.
6.Microwave for 1 minute.
7.Enjoy!!