Easy Vegetable Chicken Crepes Recipe
The best french chicken crepes filling recipe you can make for an elegant but easy weeknight meal.
Servings: 6 Persons
Prep time: 25 min
Cook time: 30 min
Total time: 55 min
Ingredients:
Crepe
1 cup Flour
1 tbsp Cream Cheese
¾ cup Milk
½ cup Water
3 tbsp Melted Butter
2 Eggs
Pinch Salt
Vegetables and minced chicken filling
250 g Minced chicken
2 tbsp Olive oil
1 small Onion
1 Minced Clove of Garlic
½ Shredded Zucchini
1 Medium Shredded Carrot (Use a Grater)
½ tsp Salt
1 pinch Black Pepper
¼ tsp Paprika powder (optional)
1 tbsp Chopped Parsley
2 tbsp Grated cheese (any cheese you have)
Directions:
1.In a blender, add water, milk, the eggs, butter, cream cheese, flour, salt. Blend everything well for 1 minute until smooth.
2.Transfer the mixture to a bowl.
3.Heat up a pan and brush some oil on it.
4.Pour about one ladle of the mixture and swirl around until you form round crepe.
5.Let it cook for 1 minute, until the edges are coming off when you use spatula around them.
6.Flip the crepe and cook for another minute or two, until the bottom is golden.
7.Take the first crepe out of the pan. Cover it (always the first crepe never comes out well, don't panic).
8.Repeat the process; brush the pan, pour the mixture, swirl, let cook until it easily comes off.
9.Cover the crepes to prevent them drying out.
10.Add olive oil and chopped onion in a large skillet or wok over medium-high heat. Stir for 1 minute.
11.Add garlic, parsley, carrots, zucchini, black pepper, paprika powder, salt, Stir, cover and let cook for 3 minutes.
12.Add minced chicken, mix everything together. Let cook for 10 minutes.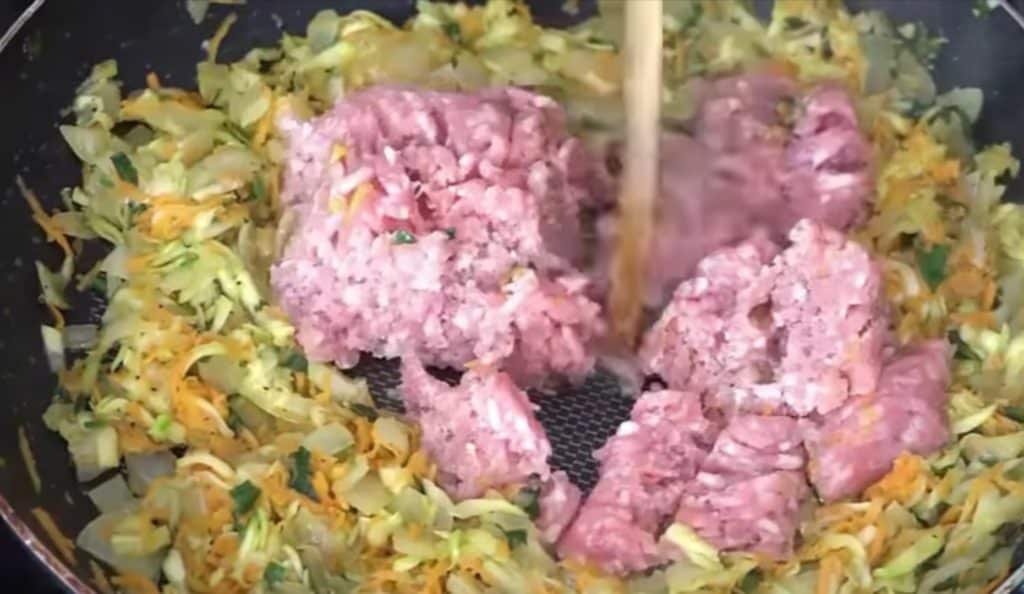 13.Let cool then add the cheese, mix well.
14.Place your crepe on a plate, add 2 tbsp of filling in the center of the crepe, line the edges with white flour paste (a mixture of 1 tbsp flour with 2 tbsp water) to close the crepe. Fold over.
15.Spray a pan with olive oil, heat over medium heat, transfer your crepes to the pan and cook for 1 minute each side until they are golden brown.
16.Serve right away
Enjoy!!